Elmer Beach Summer Painting 2020
Hello friends & Fellow Painters  ... What a year we are all having!! Painting for me has been a huge outlet during the Coronavirus Pandemic...I hope you have all kept well and found ways of keeping busy and safe.

After lockdown my two dogs and I went to my beach bungalow in Elmer for a few weeks to sketch and paint and enjoy the summertime.
Elmer Beach an unspoilt stretch of coast with the rocks set out to keep the sea at a safe distance!
The new sea defence  completed last Spring ensures the coastal erosion is halted protecting the residence of Elmer.
As an artist this  area and further along the coast to Climping Beach is a true source of inspiration.
I have made lots of sketches and taken photographs, by sitting and enjoying watching the waves soaking up the essence and feeling of the area helps me to compose ideas to take back to the studio.
I enjoy walking my two Golden Retrievers, Casa (not so much now as she is 13 and a half now!) Goldie 3 years old, lovely company as I sketch she is also my swimming companion she  guards my bag and clothes too! … she has also been rescuing people in the sea! One of  our adventures ! All part of the experience.😍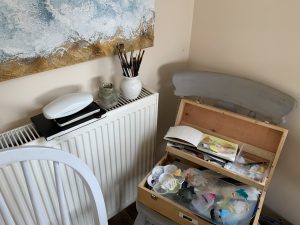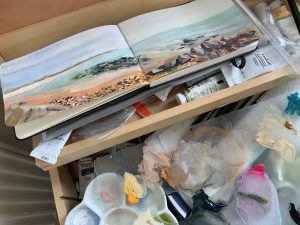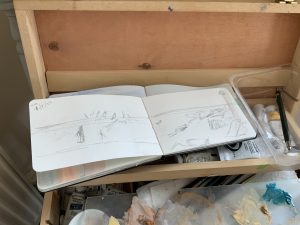 I decided to do a quite detailed painting of one of the views across to the sea defencerocks at Elmer Sands.
I love the patterns in the sand where the sea water has created little channels and pools, I like to try and recreate these in the paint.

Using Bockingford Water Colour Paper which I have prepared by stretching on a boards secured by gummed paper. I am painting with Gouache. I love this medium its opaque chattyquality and its watercolour ability, blending and moving the paint about takes patienceand practise, lovely flexible paint.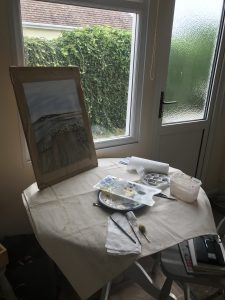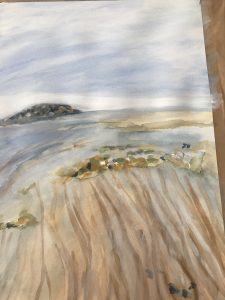 Letting each wash dry first then gently introducing another tone.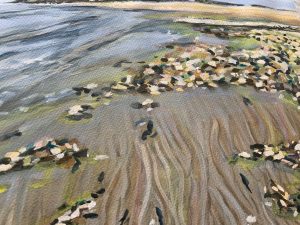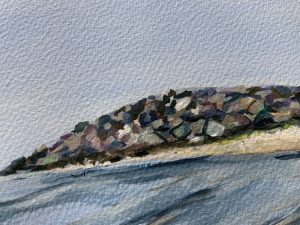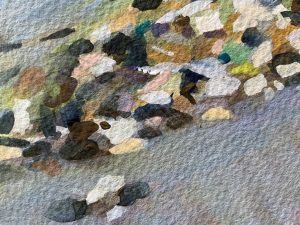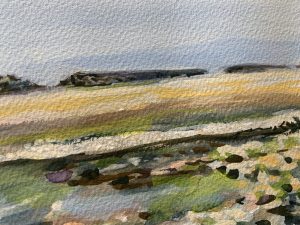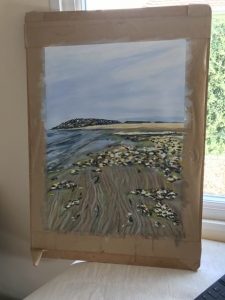 More detail added…. pops of colour..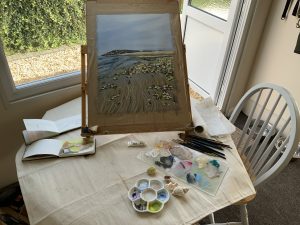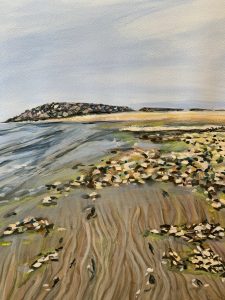 I hope you enjoyed a little insight to my painting.
My advice… play, express and just enjoy creating and painting.
Thank you for viewing this blog.
Bye Bye for now, stay safe and well.
Jules XXX